COMBI
Pest Control products

Distribution of devices :
The essential devices used in the field of pest control include feed bins and boxes produced by COMBI Kft. Even our professional company specialised in pest control use these devices. Long years of application back up the statement that these devices give huge support to effective pest control concerning rats and mice,
We circulate plastic rat bins and mice feed boxes at a price that requires the user spend no extra cost compared with the traditional devices. At the same time however, their life time and period of applicability is much longer than that of wooden or paper-made similar products.

Plastic rat bin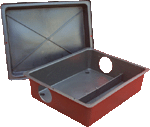 1/ Simple type :
30 x 26 x 13 cm
Price: 2,40 €
Consists of two parts to be snapped onto each other, (bottom + top)
The bottom is divided into 2 racks for input and output slots.
Applicable for:
• Displacing common, bulky baits
• Displacing paraffin cubes and discs that may be fixed with a metal stick
Advantage: The feed bins may be sliding into one another allowing the transport of about 150 pieces by a passenger car at one time.
Size: 31 x 27 x 15 cm
Price: 3 €
Bottom divided into three parts and provided with input and output slots.
The internal field is divided into two parts, in which disposable inlet may be displaced.
The disposable inlets make the replacement of the applied agent.
Also suitable for the displacement of metal stick-fixed paraffin discs.
A narrowed place is formed in the middle bottom of the feed bin for fastening.
1/ Simple type:
Size: 12 x 7 x 4 cm
Price :0,5 € net
Consists of two parts to be snapped onto each other, (bottom + top), with input and output slots.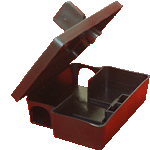 2/ Locker type:
Size: 12 x 9 x 4 cm
Price: 0,7 € net

*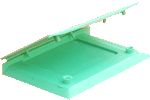 Plastic baits display
(for insecticides)
Size: 13 x 9 x 1,5 cm
Price: 0,5 € net
This equipment is designed to protect the displaced insecticide from contamination (dust, water etc.)
The equipment may be fixed on a plain surface free from fat and dust with a self-adhesive tape.

COMBI Kereskedelmi és Szolgáltató KFT
1071 Budapest, Dembinszky u. 29.
Tel.: 00 36 23/382-121, Fax: 00 36 23/545-121
Mobil: 00 36 20945-9090
E-mail: kartevo@kartevomentesites.hu
combi@vnet.hu
www.kartevomentesites.hu
http://vnet.hu/combi
Your orders, remarks and comments in German or secondarily in English will be welcome. If this is not manageable, we will still respond in your mother tongue however, with a reasonable delay.